Geography Club at the University of Hawaiʻi at Mānoa
The Geography Club connects undergraduate and graduate students with faculty, alumni, and affiliates through a variety of social, academic, and community activities that promote a more sustainable Hawaiʻi.
Membership/Cost:
Membership is automatic for our undergraduate majors and graduate students. While participation in club activities is not required, it is highly encouraged.
Membership is for life. Our alumni are welcome to participate in club activities, although if space is limited, preference is given to active students.
Membership is free, though certain events my require you to own particular items (ex. Closed-toe shoes).
Members are welcome to invite friends and family to participate in club activities, although if space is limited, preference is given to active students.
---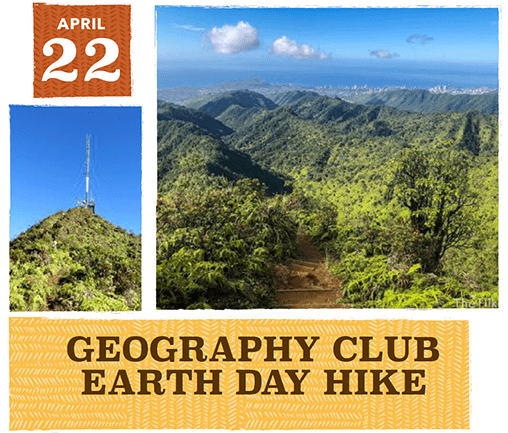 Spring 2018 - Geography Club Earth Day Hike
Place: Wiliwilinui Ridge Trail
Date: Sunday, April 22
Time: 8:30am-Noon
Join us on Earth Day for a hike on the Wiliwilinui Ridge Trail. Itʻs an easy to moderate hike (about 3 hours in total) and we will do some trail cleaning on the way down. Spend the morning getting some exercise, enjoying the spectacular scenery, and celebrate Earth Day with your fellow geographers!
---
The Hike
Difficulty: Intermediate
Time: 3 Hours
Distance: 4.5 Miles
Elevation Gain: 1400 Feet
Foot Traffic: Moderate
Challenges: Some steep uphills, potentially muddy ridges
Sights: Windward Oahu, Honolulu, Diamond Head
The very beginning of the hike is paved, then continues along a dirt road with vegetation on either side. Be sure to keep an eye out here for small clearings as they offer excellent views of Honolulu, Hawaiʻi Kai, and the ocean below. After walking for over a mile the wide road ends and you will see around landing area with a set of stairs to your left. There is a bench here and a nice view in case you want to take a break and rehydrate before continuing up the stairs. From this point, you will hike along the ridge and climb up a series of stairs until you reach the summit. There are some spots along the way with ropes that will aid in your accent but in general, the stairs provide nice traction to work your way up the occasionally steep ridge. Once you make it to the transmitter station, the summit is not far, just continue on the trail for a few hundred meters more. There is a small area at the top with a bench where you can take in views of Waimanalo, Kailua, and Olomana (a.k.a "three peaks"). We will also take plastic bags along to do a bit of trail cleaning on our descent back to the parking lot.
---
Meeting Point
We will depart from the sitting area outside Whole Foods at Kahala Mall at about 8:30am. Drop by early for a coffee with your fellow hikers.
If you want to meet us at the trailhead, travel eastbound on the H1 and Kalanianaole Highway until you make a left hand turn on Laukahi Street. Continue on this road until you reach a guard station. You will notify the guard that you are there to do the hike, they will check your id, and then give you a pass as well as directions to the trailhead (the pass also has a map on it if all else fails). Park in the designated spots in the parking lot at the end of Okoa Street and meet us no later than 9am.
---
What to Bring
Water
Lunch or snacks
Rain gear
Insect repellent
Close-toed shoes
Sunscreen
Gloves Hat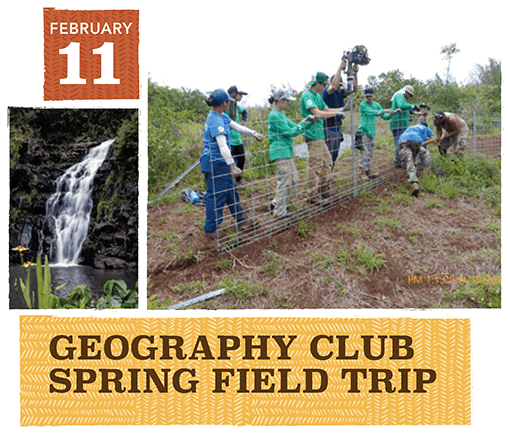 Spring 2018 - Geography Club Field Trip
Place: Waimea Valley Historical Nature Park
Date: Sunday, February 11
Time: 9am-3am
Join us on a hike to the back of the valley and be part of the Waimea Valley Hanai ʻaina volunteers team that is assisting an ongoing conservation project. We will be hiking up onto Kalaheʻe Ridge (an easy to moderate hike of about 45 minutes) to spend the day planting native vegetation and removing invasive species.
---
Important Information for Hanai ʻAina Volunteers
This is a unique chance to be a part of our Waimea Valley Volunteers Team. You will be going on an exclusive hike to the back of the valley and spending the day helping in our conservation projects. The work goes from 9am to 3pm and can include: native planting as well as invasive species control. Please be on time; if you are late the group may leave without you and there is no way to get you caught up to them. Please realize that when you sign up to go on this trip, you are committing to the entire time specified as Waimea Valley Park does not have staff to hike down early with volunteers and you cannot hike down by yourself. We will provide all tools, but you are welcome to bring personal gloves.
---
Meeting Point
Waimea Valley Botanical Office (be ready to leave for hike at 9am)
59-864 Kamehameha Hwy.
Haleiwa HI 96712
---
Location Details
When you arrive at the Valley entrance road, go mauka (towards the mountains) and park in any of the regular parking lots. Then continue walking mauka from there to the Botanical office. It will be up the road to the left of the Visitor center. If you see a sign that says endangered species ʻalae ʻula crossing keep going up that way. If you are having trouble, go to the front desk in the visitor center and ask to be directed towards the botanical offices, they can help you find your way.
---
What Age
Ages 12 and up are invited to attend, but any volunteers under 18 will need to have a parent or guardian go with them to volunteer. After an initial volunteer day, individuals 16 years and older will be considered on a case by case basis for volunteering without a parent or guardian present, but their parent or guardian will still need to be present in the morning to sign their waiver form.
---
What to Bring
Water (at least 2 liters) (REQUIRED)
Lunch
Insect repellent (just for the hike)
Sun screen
Hat
Rain gear
Gloves
Long sleeved shirt
Long pants
Close-toe shoes (REQUIRED)
A positive attitude!