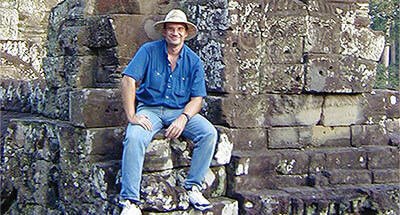 CSS Excellence in Teaching Award (2010)
Background
More than 50% of the U.S. population lives in coastal areas that make up only 10% of the nation's land area, and two thirds of all people on earth live near the coast. Competition and conflict over access to natural resources is inevitable in these circumstance, and my research and teaching explores the complex relationship between people, natural resources and the places they live, work or visit in the coastal zone. I've worked extensively in both Southeast Asia and Hawaiʻi focusing on resource management and planning issues associated with shrimp aquaculture, agricultural land use, and coastal tourism development.
Education
PhD, Geography, University of Victoria, 2001
MA, Geography, Simon Fraser University, 1992
BSc (Honors), Geography, University of Alberta, 1986
Courses
GEO 101: The Natural Environment
GEO 324: Geography of Global Tourism
GEO 356: Geography of Southeast Asia
GEO 412: Environmental Impact Assessment
GEO 413: Resource Management
GEO 415: Nature-Based Tourism Management
GEO 493: Capstone Undergraduate Seminar
GEO 622: Advanced Environmental Impact Assessment
GEO 728: Seminar: Resource Management in Asia-Pacific
Research
My research focuses on two broad themes: sustainable seafood production in Thailand and coastal tourism in Hawaiʻi. In both cases, development has occurred without adequate planning, and my research contributes to both understanding social and environmental impacts of development and creating more sustainable communities. I have over 30 refereed publications and recently co-chaired of the 8th International Congress on Coastal and Marine Tourism in Waikaloa, Hawaiʻi. I am also the Undergraduate Chair in the Geography Department and serve on the executive committee of the UH Center for Southeast Asian Studies.
Community Engagement
I have completed several recent studies for the State of Hawaiʻi on marine tourism management in high use areas such as the Molokini Shoal Marine Life Conservation District, Kealakekua Bay State Historical Park, and manta ray dive sites off the Kona coast of the Big Island of Hawaiʻi.