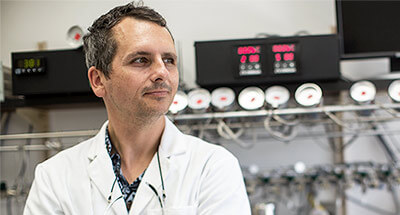 David W. Beilman
Professor
Office: Saunders 419
Telephone: 1 (808) 956-7311
Email: beilman@hawaii.edu
---
Browse My Publications:

CSS Excellence in Teaching Award (2012)
Background
Terrestrial ecosystems take up a substantial portion of humankind's carbon emissions, making the sensitivity/resilience of terrestrial carbon a crucial part of our climate future. My work as a researcher and educator aims to further better understanding of current and past land ecosystem structure and function. I have pursued this challenge in government and university settings in the U.S., Canada, and the UK, including the University of Hawaiʻi at Mānoa since 2009.
Education
Postdoctoral: Queen's University Belfast, U.K., 14CHRONO Centre for Accelerator Mass Spectrometry, School of Geography, Archaeology & Palaeoecology, 2007-2008
Postdoctoral: University of California Los Angeles, Departments of Ecology & Evolutionary Biology and Geography, 2006-2007
PhD, Geography, University of California Los Angeles, 2006
MSc, Environmental Biology & Ecology, University of Alberta, Canada, 2001
BSc, Environmental Biology, Specialization, University of Alberta, 1996
Courses
GEO 101: The Natural Environment
GEO 309: Introduction to Biogeography
GEO 411: Past Global Change and the Human Era
GEO 750: Research Seminar: Biogeography
Research
Geographers have a large and integrative role to play in helping to solve some of the larger issues that face humankind such as climate change and its impacts. In the Beilman Lab we conduct field and laboratory investigations to better understand long-term terrestrial ecosystem response to global change. We have a keen interest in the carbon cycle, and love to measure stocks, fluxes, and different kinds of carbon (13C, 14C). Recent field campaigns have taken us to Kamchatka, Russia, the western Canadian Arctic, and the Antarctic Peninsula as well as around the Hawaiian Islands.