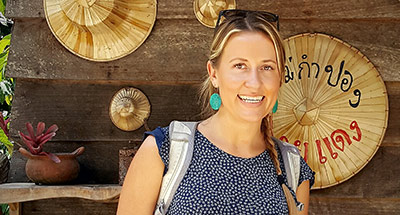 Background
I am a human geographer broadly interested in development and socio-environmental change in Southeast Asia. Development geography encompasses the range of socio-economic activity that unevenly affects people's livelihoods and wellbeing. My scholarship engages with these themes through the analysis of tourism, agriculture, and infrastructure. My work on socio-environmental change draws on political ecology framings that account for the range of political and economic drivers of environmental degradation and socio-ecological movements. I focus on how these processes materialize in the contexts of air pollution, forest degradation, and agrarian transitions. Published in eight authored and co-edited books and more than 75 peer-reviewed journal articles and book chapters (see Google Scholar for a list of my publications), my work collectively asks, how is everyday experience mediated by broader transnational processes and with what social and environmental implications? I seek answers to this question through ethnographic fieldwork and in popular culture and other textual representations, as well as collaboratively with GIS and remote sensing specialists. When I am not writing about the environment and development, you can find me surfing Diamond Head, hiking the Kalalau Trail, or eating spicy poke bowls on Kaimana Beach.
Education
PhD, Anthropology, University of Hawai'i at Mānoa, 2011
MS, Anthropology, University of Oregon, 2005
BA, Anthropology & Communication, Washington State University, 2003
Courses
GEO 102: World Regional Geography
GEO 324: Global Tourism
GEO 330: Culture and Environment
GEO 425: Geographies of Popular Culture
GEO 426: Environment, Resources, and Society
GEO 610: Cultural Geographies of Tourism
GEO 685: Human Geography Research Methods
GEO 725: Political Ecology
GEO 757: Cultural Geography
Research
My current research examines the political ecology of seasonal air pollution in northern Thailand. Air pollution now affects 92 percent of the global population and is responsible for one out of every nine deaths on the planet, nearly two-thirds of which occur in Southeast Asia and the Western Pacific. This project employs mixed ethnographic, quantitative, and geospatial methods to investigate the question: What are the socio-ecological drivers and consequences of seasonal air pollution crises? As anthropogenic environmental change intensifies globally, my work advances understandings of how such change registers as a crisis (or not) and has significant implications for environmental policy, politics and practice. Supported by a National Science Foundation Cultural Anthropology Senior Research Award, I document this work in a range of publications (see Google Scholar) and in my book manuscript, "(Un)natural air: Pollution out of place in northern Thailand."
This work dovetails with my forthcoming collaborative project on Transboundary Air Pollution and the Socio-Ecological Impact of China's Belt-Road Initiative in Myanmar and Thailand. Spanning 65 countries which collectively account for one-third of the global GDP and 60 percent of the world's population, China's Belt and Road Initiative (BRI) is the world's largest infrastructure development scheme ever conceived. This project brings an integrated ethnographic and geospatial lens to current debates by comparatively investigating the socio-ecological implications of BRI in Myanmar and Thailand. This project is supported by a collaborative USD $1,000,000 Luce Initiative on Southeast Asia grant from the Henry Luce Foundation.
These projects are being carried out in collaboration with the Regional Center for Social Science and Sustainable Development and the School of Public Policy at Chiang Mai University.