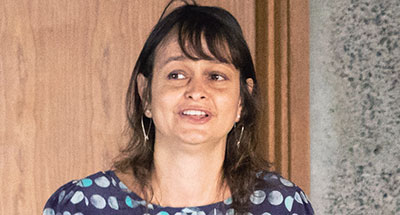 Background
As an undergraduate I took time off to travel the globe with a backpack visiting numerous islands falling in love with their geographies. This encounter sparked my concern with the vast inequities that exist among the world's regions and an interest to learn from diverse communities. Along with the transnational, hybrid experience of being part of NYC's Greek diaspora, and the emphasis many migrant families such as mine place on academics, higher education emerged as the best path to study global society, with an equity perspective, and a focus on islands. Travel, research, teaching, and learning have been inextricably linked in my pursuits.
Education
PhD, Sociology, University of Georgia, 2001
MA, Sociology, University of Georgia, 1997
BS, Philosophy, Northeastern University, 1991
Courses
GEO 325: Geography, Environment, and Society
GEO 766: Society and Space
Research
My current research considers island societies, particularly how constructs of gender, race, ethnicity, and sexuality are shaped by islands. I also seek to understand how island spaces offer alternative economic models that serve social needs and the natural environment better than dominant economic modes. I have published research on the Republic of Trinidad and Tobago, the Republic of Cyprus, Lesvos, Greece, and Hawaiʻi. Some of my work addresses equity in academic employment as well as global social movements. I read indigenous scholarship with rapt attention and enjoy supporting graduate students with a social justice orientation.
Community Engagement
After graduating college I became a community organizer in New Orleans focused on low-income housing, reproductive issues, and political representation in Louisiana. Years later my community engagement was on a global scale through the World Social Forums, a meeting place for activists and organizations challenging neoliberal economics with the motto "another world is possible." Currently, I work with high school students in Pāhoa, Hawaiʻi supporting them in senior projects and going to college. I also ally with Native Hawaiian led efforts to protect our island environment and am co-creator of the island feminisms project.