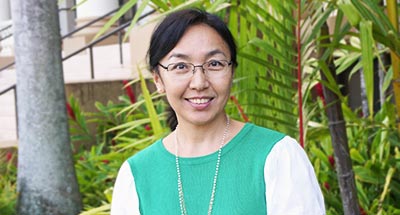 Orhon Myadar
Associate Professor
Office: Saunders 420
Telephone: 1 (808) 956-8465
Email: orhon@hawaii.edu
Background
As a political geographer, I study the geographical implications of politics at various scales. I am especially interested in questions of power, ideology, mobility, and identity within the context of shifting political landscapes. I study how borders of belonging or exclusion shift as political regimes change and how these fluid borders shape the everyday struggles of underserved and marginalized individuals and communities.
Education
PhD, Political Science, University of Hawaiʻi at Mānoa, 2007
Courses
GEO 335: Politics, Nations, and States

GEO 436: Geography of Peace and War 
Research
My current research examines forced mobility and displacement, especially in the context of political turmoil. I am interested various ways narratives are told by, for, and about persons who have been forced to move and how these narratives shape the production and dissemination of knowledge about these persons. I recently concluded an interdisciplinary collaborative project funded by the National Institute for Transportation and Communities on connections between mobility, transportation, and quality of life in refugee communities in Tucson, Arizona.